Why is email deliverability important?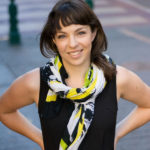 by Sarah Smith
on April 29, 2016
Email is a critical part of running your association and delivering benefits to your members. Your members rely on emails to keep their membership dues up to date, find out about upcoming events, receive and store receipts, and more. If the emails you send aren't reliably reaching your members, it could have a devastating effect on your membership. Worse, it can take weeks or months to find out that a member isn't receiving your emails – and by then you could have lost them.
The Basics
Sending an email is like mailing a letter. When you hit send, you pass your email along to your mail server. Your outgoing mail server checks the recipient, and sends your message on to their incoming mail server. The recipient's mail server analyzes the message to make sure it's real, and then delivers the email to your recipient. It's just like how the postal service processes your letters, ships to distribution centres, and sends them out in a carrier's mailbag.
When you mail a letter and it doesn't arrive, it's usually because something interrupted the delivery process, like a stray bag of mail, a late shipment, or a mistake by your mailman. In the same way, emails can also get waylaid by problems in the delivery process.
Why aren't emails getting to my members?

Your outgoing mail server
If you're sending an unusually high number of emails, your mail server may have flagged you for suspected spam activity and shut off your emails to protect you and your contacts.
Their incoming mail server
Your recipients' incoming mail servers screen them from obvious spam and phishing messages using simple rules, and throw away messages that they see as being not legitimate.
Spam filters
Many spam filters use simple rules to give your email a 'spam score', and throw away emails with too high a score. Points are added for suspicious behaviour like emails that don't have any sender listed, or emails with attachments from a sender that you haven't ever emailed before.
DMARC policy
Are you sending emails through MailChimp, Constant Contact, or any other tool using your own personal email address? Many email providers will now block your messages as a result of the new DMARC policies. If you're having trouble sending to Gmail and Yahoo email addresses in particular through an email marketing tool or your membership management system, this may be why.
What you can do
SilkStart helps you avoid these pitfalls and get your emails into your members' inboxes. Whenever you send emails to your members, we recommend that you use an email address for your organization, such as info@yourassociation.com or membership@yourassociation.com.
Best practices: SilkStart already helps you use best practices when sending emails to your members. SilkStart adds the following features to every email you send:
Your emails always contain contact info for your organization – as required by CASL and

CAN-SPAM

spam laws.

Members can opt out of receiving email from every marketing message you send them with just one click.

Opting out of email doesn't block members from getting important notifications like purchase receipts and expiry reminders.

Sending lots of emails? SilkStart's mail servers allow you to send a much larger volume of messages than most personal email accounts can send each day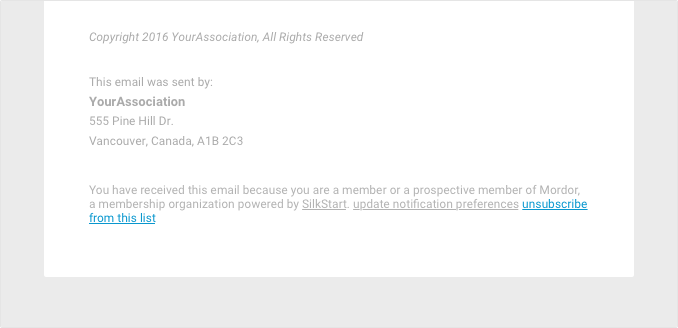 Account setup: When you and your Account Manager are setting up your SilkStart account, your Account Manager will help you choose settings that help increase your email delivery rates, like:
Using a professional email like info@yourassociation.com for all outgoing emails.

Sending messages with your name or the organization's name in the "From" address.
Technical setup: If SilkStart is helping configure your website's custom URL, we also typically create SPF records. Incoming mail servers will often check with the URL's settings to find out who can send on their behalf. If a message is sent from info@silkstart.com,
mail servers will check with silkstart.com to see if the message was authorized. Creating SPF records that authorize SilkStart to send emails to your members will help messages get through.
What if I have to send from my Gmail address?
If your association doesn't have a custom domain or if you have to send from a personal email address for other reasons, SilkStart can help.
Set the 'From' address on your SilkStart account to any address ending in @yoursite.silkstart.com, like info@demo.silkstart.com. In your SilkStart account, turn on 'Forward SilkStart Domain Emails'. We'll forward any emails that we receive for you on to your Organization Contact, so that you can get great email delivery rates without owning your own domain.
Have a question? Let us know!
Give it a try. It only takes a click to unsubscribe.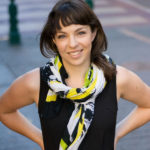 Sarah Smith
Account Manager @SilkStart