Write the Perfect Email to Launch your Membership Website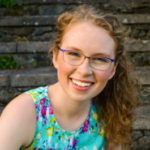 by Emily Griffis
on November 21, 2017
At SilkStart, we help associations launch brand-new membership websites that facilitate growth, promote engagement, and increase member satisfaction. In this blog post, we've brought together our best tips for creating a successful launch email to officially invite members to your new website.
Write for the member: For members to take interest in your new website, they need to understand what you're offering, and how it benefits them directly. Focus on communicating the value from a member's perspective to ensure your message is delivered as an invitation and not an advertisement. As a member, which of the following emails are you most likely to open? "Check out our new website!" or "Manage your membership online!"
Pick the highlights: Emphasize a few features that offer the most value to your members, such as an updated forum for easier interaction, or brand-new resources to further career development. A member is more likely to take action (ie. click a link) if the email is digestible in size. If you have a lot to say, take advantage of pre- or post-launch promotion to go into greater detail about individual features.
Promote action: What is most important to the success of your website, and what role do your members play in achieving that? Your goal could be to build out a member directory (have them update their profile), promote social engagement (have them join a group) or facilitate networking (send them to the event calendar). Be aware that asking members to do too many things at once may be overwhelming and reduce initial engagement.
Welcome feedback: Openly accepting feedback shows members that you're willing to listen, and strengthens your relationship with them. Try something like: "Your feedback is very important to us as we develop a membership website that is valuable to you. Please submit any questions, comments, and concerns to [link to email or contact form]"
Ultimately, your message should reflect your members, how they behave, and what they are looking for by belonging to your association. Below are two contrasting strategies for the presentation of your launch email – we've seen success with both!
Text-Only Email
Drive traffic to your website with a short message accompanied by login instructions and (optional) feature highlights. A basic email puts the focus on getting members logged in and set up as quickly as possible. Consider this method if your association has used a membership website in the past, and your members already know what to expect online. To elaborate on the website's new features, include a link to an external blog post with more information.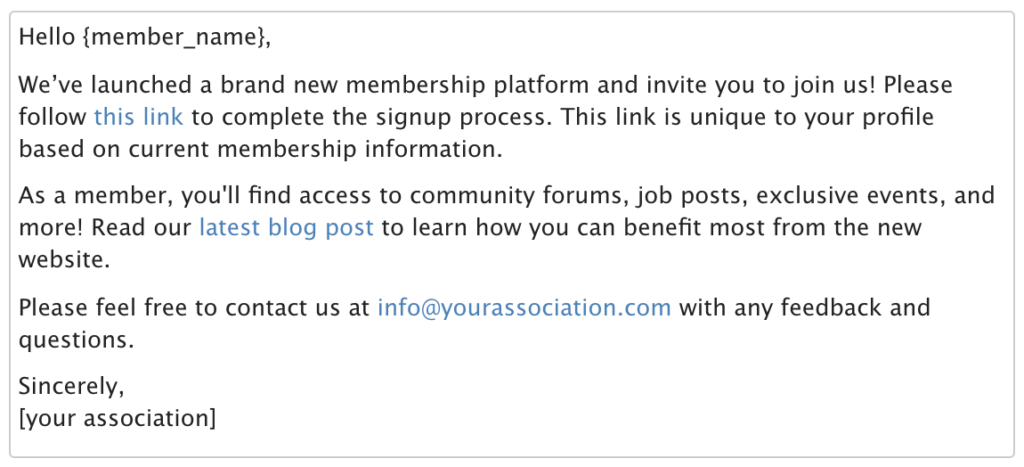 Graphic Email
A message including text, graphics, and links allows for more room to elaborate on your website's benefits. If a membership website is a brand new concept for your members, more content may help them understand the value of getting involved online. This method can be executed in the form of a newsletter, or a digital flyer within the email. P.S. This graphic was made in under 30 minutes using Canva!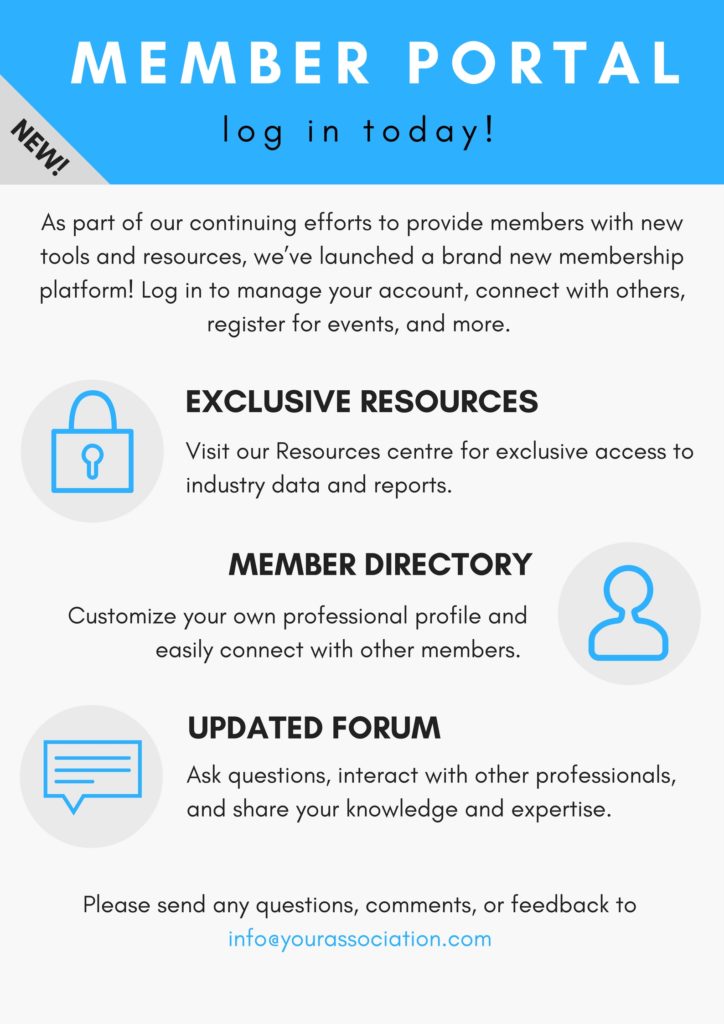 We've learned that there is no right or wrong way to launch, so tune in to what your members desire, and adapt our tips to suit your demographic! However you decide to reach out, make sure it's in a way that offers value and promotes action. To learn more, visit our Help Centre for best practices on launching with association management software.
Give it a try. It only takes a click to unsubscribe.